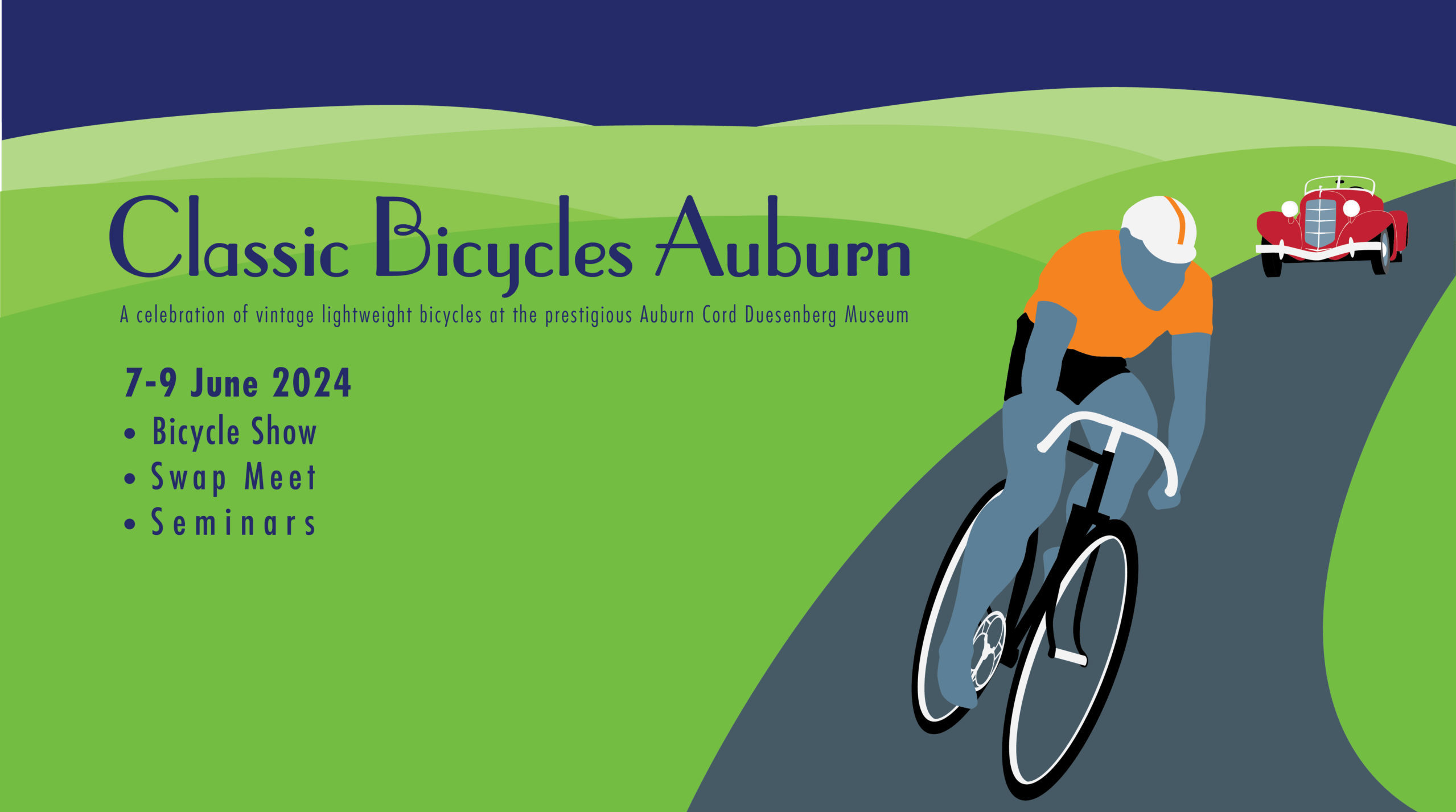 | | | | | | |
| --- | --- | --- | --- | --- | --- |
| Bike Show | Seminars | Swap Meet | Banquet | Schedule | Lodging and Logistics |
Vintage lightweight bicycles at the
Auburn Cord Duesenberg Museum
A three-day celebration of vintage lightweight bicycles at the prestigious Auburn Cord Duesenberg Museum. Enjoy seminars, food, and a bicycle display and swap meet.
The focus of Classic Bicycles Auburn is on vintage lightweight bicycles. These bicycles are special as they represent the intersection of engineering excellence, craftsmanship, and elegance. These are the traits that define the most sought after automobiles of the 1920's and 1930's.
Modern handcrafted custom bicycles that embody these characteristics are welcome, as are pre-suspension mountain bikes; especially those made of steel.
The museum is housed in the original headquarters of the Auburn motorcar company. It's stunning art deco main floor served as the corporate dealer showroom for Auburn, Cord, and Duesenberg motorcars. It is easily accessible from many eastern and midwestern population centers. A portion of the proceeds from the event will benefit the museum.
On Sunday, in the ballroom under the same roof as the worlds greatest motorcars, a dazzling array of the worlds most beautiful and technically advanced-for-their-age bicycles will be brought together. The main focus is lightweight racing and touring bicycles from the 1930's through mid 1980's. Modern custom built bicycles (with an emphasis on steel) will also be on display.
High-performance, non-suspension mountain bikes of the period are invited. There will also be a display area set aside for antique bicycles (especially those from the 1920's and 1930's).
The organizers will pre-screen bicycles entered into the show for appropriateness, and to be sure that the focus of the event is maintained. The organizers want to make this an inclusive and fun day for everyone, so screening will not be overly restrictive. Plus we'll be gathering information necessary to make some signage for your bicycle!
The 2022 seminars were a huge success! For 2024 we'll build on that success and create an amazing program that you're sure to enjoy!
On Friday & Saturday some of the world's finest framebuilders and leading vintage bicycle experts will share, inspire, and educate. Additionally, special guests who's knowledge bridges both the bicycle and automotive fields will share their knowledge.
On both days, a casual lunch will precede the presentations. At various times during lunch and the presentations, the museum will operate a cash bar.
Multiple rooms will allow for attendee choice of certain break out sessions with more specialized topics.
Topics will include frame geometry and materials as well as presentations to appeal to the detail oriented collector. Of course, seminars will include personal stories that recall the the shared history of many attendees.