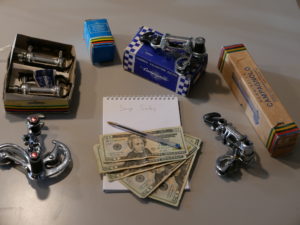 What treasures will you find?
$16 admission to the Swap allows you to visit the museum for the day! Those attending the swap can purchase their entry ticket on Sunday
On Sunday, there will be a fun swap meet outside the museum.
The focus is on vintage lightweight racing and touring bicycles and parts. As the swap area is expansive, there also will be space set aside for other categories of bicycles.
To make the day more enjoyable, we expect to have some great local food trucks on-site too!
Swap Details
Swap spaces are roughly 8 x 10 or 10 x 20. Builders of custom handmade bicycles are welcome to display at the swap (but we may have some inside space so please inquire) .
A space includes one ticket for admission to the bicycle show/display inside. There may be tables and chairs available, by request, subject to supply. You will be assigned a space by the show organizers. The show is held rain or shine. Please email mikekone@comcast.net if you have questions or want to touch base/discuss any details. We are happy to do our best to arrange swap sellers next to each other. Just let us know.
Note that you will be responsible for cleaning up your space at the end of the show. Thanks!