Sunday Bicycle Show
Over 100 bicycles are now confirmed for the show – if you did not pay formally sign-up (and pay!) before August 17, we're sorry but no display space is available. We thought there would be display space for bicycles possibly as late as show day, but that is not the case. Sunday's show will feature an amazing array of bicycles!

On Sunday, in the ballroom under the same roof as the worlds greatest motorcars, a dazzling array of the worlds most beautiful and technically advanced-for-their-age bicycles will be brought together. The main focus is lightweight racing and touring bicycles from the 1930's through mid 1980's. Modern custom built bicycles (with an emphasis on steel) will also be on display either inside or under the builder tent outside.


High-performance, non-suspension mountain bikes of the period are invited. There will also be a display area set aside for antique bicycles (especially those from the 1920's and 1930's).

The organizers will pre-screen bicycles entered into the show for appropriateness, and to be sure that the focus of the event is maintained. The organizers want to make this an inclusive and fun day for everyone, so screening will not be overly restrictive. Plus we'll be gathering information necessary to make some signage for your bicycle!


Details and registration information below

Note that in the case of extremely nice weather, the Bicycle Show may be moved outside.
Judging and Awards
There will be a great number of amazing bicycles on display. It's going to be an exciting challenge to judge and evaluate them.
There will be a two-tier structure to awards. First, bicycles will be assigned "groups" with defining characteristics including but not limited to nationality, age, bicycle type, small vs large manufacturer, restoration status, and "user" vs garage queen. The exact definition of a group won't be decided until August 16th. But there will be a number of "groups", and the winner of each group will receive a well-deserved certificate.
Second, there will be some "trophies" awarded that will transcend the strict boundaries of "group". Here is a preliminary (subject to revision) list of trophies:
Best overall bicycle in show, best pre-1960 bicycle, best post-1960 bicycle, best example of the bicycle building craft, best original paint bicycle, best repainted bicycle, and peoples choice best bicycle.
Modern construction "keeper of the flame" steel frame bicycles are welcome in the display!
Registration to Display a Bicycle
The bicycle display area is large – but we are nearly out of space.
There is no remaining display space for bicycles unless you signed up for the event and paid before August 17th. We're still holding a few display spots for folks who have paid but haven't filled out the actual bicycle registration form. But we can only hold spots, even for those who paid up, until late-day August 18th.

Click Here for the Registration Form
Remember – Submit one form for each bicycle you want to display.
Email
classicbicyclesauburn@gmail.com
if you made a mistake on a form or if you wish to add information after submission.
Additional Information
You will need a stand to support your bicycle that is not wobbly. More info below. We need to avoid damaging the ballroom floor, so sharp contact points on your bicycle and/or stand most be treated to avoid damage.
Volunteers will have their eyes on the display area, but neither the museum nor Classic Bicycles Auburn can be responsible for loss or damage to your bicycle. There may be a waiver to fill out when you arrive to display your bicycle
Bicycle set-up for the show is from 7:30 to 8:45am. The current plan is that signs by the main entrance to the museum will direct you. The bicycle show runs from 9am to 2:45pm (or so) with awards around 2:15pm. Please wait until 2:45pm or so for breakdown so that folks can look at the winners and chat with the owners.

Bicycles that clearly get "ridden" and some liberties taken with exact period correctness are welcome. They may be grouped in to a category that honors how well the bike's been made user-friendly while maintaining it's original spirit and elegance.
Bicycles that are presented with extreme focus on period correctness will be eligible for special category recognition.

Bicycles that are exceptionally well preserved for their age are sure to peak the interest of the judges.
While cleanliness and pristine condition is rewarded in judging, over-the-top obsessive cleaning like many clean competitions in car shows is not likely to get you many extra points. We'd much rather participants talk to their friends at the show than obsess over every crevice with rags and Q tips.
Unlike some shows, if a bicycle you are showing is also for sale, you can provide your cell number and it will be printed on your bike's display sign.
Stand Info
We want bikes on stands so they aren't tippy. Tippy is subjective, but if folks do their best to bring stable stands we should be fine.
A stand that offers what we think offers a minimal level of stability is the Superstand shown below..
You can purchase one in advance and it will be waiting for you at the show. Click Here.
A great stand is the Nitto C-2 – any shop that buys form EuroAsia imports can source one for you. But it's pricey.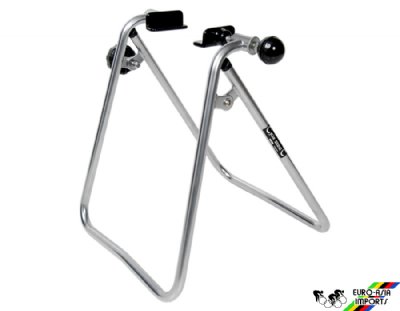 There are other stands that support one or both sides of the axle which work nicely. The key is someone should be able to gently back into a bike without it tipping over as they "feel" the bike and stop backing into it!
Below are images of stands that are too tippy. We think the common feedback stands are too tippy – relative to the Superstand, just a slight bump makes the bike fall over.
All Stands Below Are Unacceptable